Time
Sunday gathering takes place at 10:30 AM. However, we welcome you to join us at 10:15 AM for what we call "The Mix"; a time of connection with coffee right in the same room we have our service. For the schedule of our youth and young adult activities, outreaches, and other ministries, please visit the individual ministry

pages or our calendar page.
Location
Father's House is located in the heart of the University district of downtown Portland. Our offices and our services are both located on the campus of Portland State University. Sunday services are held at the Student Union known as Smith Memorial at 1825 SW Broadway, Portland, OR 97201 (click on the link to see a map). The room we meet in is the main meeting room on the first floor next to the cafeteria.
Follow the signs; you can't miss us.
Parking
Parking on the streets nearby is free on Sunday mornings till 1 pm, which means you do not need to plug a meter in order to park on the streets. Please know that on Sundays you can park in Truck Loading Zones which are reserved for truck use only from Monday to Saturday. Also due to construction nearby, you will see "no parking" signs on some marked parking areas on the street. Please, before you move past them to find another spot, read the sign. You will find that most of those signs do not apply to Sunday, so you may be able to park there. Always read the signs to be sure.
Our Sunday Schedule
10:15 AM – "The Mix"
Coffee and conversation
11:20 AM – City Kids Children's Ministry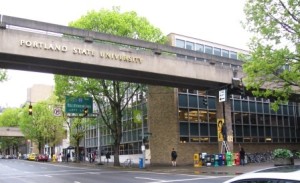 We meet at the Smith Memorial building