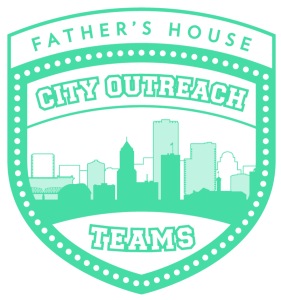 At Father's House we seek to live as family of brothers and sisters, fathers and mothers that together will live on mission to our world. We alternate our schedule so that one week we focus on being a connected spiritual family through small group gatherings and the other week we seek to be on mission to our world through focused outreaches. On this page is the description of current outreaches we are focusing on.
Father's House is housed in the very core of the Metro area, downtown Portland, the cultural center of the metro region. We are not a congregation that simply drives into a neighborhood to worship and then goes back home. No, we are focused on bringing God's life and goodness to the heart of the city. We do this through two kinds of outreaches; outreaches that focus on what Isaiah 58 declares as the Lord's fast; serving the poor and the oppressed, and outreaches that are modeled on Isaiah 61 of preaching good news through mending, healing, restoring and bringing deliverance.
FATHER'S HOUSE OUTREACHES
City Transformation Teams
City Transformation Teams is what we call our multi-faceted, multi-ministry approach to releasing the Kingdom of God to our city through targeted outreaches. Every Wednesday night several city transformation teams go out into the heart of downtown Portland to love on people through the power of the Holy Spirit, serve the homeless, prayer walk areas of crime and crisis and worship on the streets of the city. To find out more about this ministry and it's schedule, please go the City Transformation Teams Page.
Tomorrow's Hope Sex Trafficking Intervention Ministry
This ministry is focused in the prevention and intervention of the trafficking of girls in the Portland/Vancouver metro area for the purposes of sexual exploitation. While Tomorrow's Hope was founded at Father's House it is now a ministry of the Transformation Network
, a 501(c3) Christian nonprofit. The ministry is directly overseen by Pastor Steve Trujillo who has been a champion in the anti-trafficking fight in the city. Today volunteers from at least 10 different churches are diligently working in keeping the most at risk children from the hands of sex traffickers.
Can We Help? Street Outreach To The Homeless
Portland has one of the highest population of homeless people per-capita in America. Can We Help? was created to give the homeless hope and a sense of worth through this service ministry that not only meets physical needs but ministers God's love and grace. Teams go out on Wednesdays as part of the City Transformation Teams ministry strategy and walk the streets of the downtown serving this population.
PSU Students With Children Outreaches
Portland State University has a large population of students with children. Father's House partners with the on campus Resource Center for Students with Children to put on events that promote healthy family time at no cost to the student parents. We also do an annual toy drive to assist families who would not be able to afford toys for their children.
The Transformation Network
Father's House is a key partner of The Transformation Network, a
ministry that unites the body of Christ around prayer and justice. To know more about the Transformation Network, lease click here.