Welcome to Father's House
Father's House City Ministries is a downtown Portland community serving church focused on embracing God's grace and power for personal and community transformation. We have a passion for experiencing God's presence and seeing the Gospel of the Kingdom of God bring life and wholeness to people and society. Come and join us in our journey to know God and to let Him be known through our lives.
At Father's House we seek to live

as family

with one another and

on mission

to our world by alternating our schedule between small groups and focused outreaches.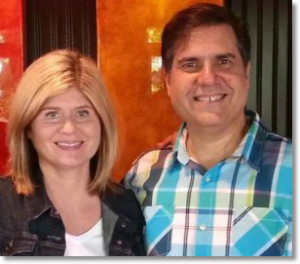 Steve and Deborah Trujillo
Steve and Deborah fell in love while they where writing music together for an outreach ministry to young people. Ever since, God has used them as a team to serve the hurting, the broken and forgotten. They ministered as youth pastors for 10 years and together they pioneered Father's House City Ministries and serve as its senior pastors. They are the parents to Tony and Marissa who are also serving God with their gifts and talents.
Steve & Deborah are emerging servant leaders to the city of Portland and the body of Christ who walk in an apostolic anointing. They are prophetic visionaries who see the big picture and understand the direction in which to go. They are known for their passion for the presence of God and the transformation and empowerment of people so they can reach their God given call and purpose.
Upcoming Events
Schools of Power & Love was birthed out of the vision to see the Church of Jesus Christ catch hold of its inheritance to win the
lost, as Paul says, "in demonstration of the Spirit and of power" (I Cor 2:4 NAS).

Teaching and impartation by Todd White, Chris Overstreet, Tom Routolo and worship with Jeremiah Gruble leading in worship. The conference cost is just $50 for those who register by July 36th, $65 for those who register by August 16th and $80 for registrations after August 16th.
To learn more about the school, the schedule and how to register please click on this
link,
http://powerandlove.org/or2017
/.
To register click on the registration button at the near the top of the page.
UPCOMING ON AUGUST 19th
Father's House is teaming up with Westside Vineyard church for the Heaven to Earth Festival, an event where various local churches come together for a day of ministering love, encouragement, and healing to the city of Portland. It serves as an avenue of bringing church to the city rather than trying to bring the city into a church service. Centered around worship in the square throughout the day tents where passersby can get prayer for healing, encouraging words from heaven, or a picture painted for them are manned by volunteers just wanting to spread the love of Christ to those who want it.
To let us know you are coming and were you what ministry you would like to be involved by clicking on the button below and filling out the form.

SHARE YOUR DREAMS & VISION
UNDER CONSTRUCTION! Check back by 8-6-17
CONNECT
Sunday Gathering Address:
Phone: 503-725-2750
This is a new number, possibly not yet publicly listed but it is the correct number for us!
Church Office Location:
633 SW Montgomery St. Suite 207
Portland, OR 97201**
**Mail cannot be delivered to office

location